Greetings All!
It is this time again! The Island Fever Rally is this weekend, and we couldn't be more excited! I just wanted to update you on the activities we have set for this weekend.
Campground Details
** Kelleys Island State Park **
Address: 920 Division Street
Kelleys Island, OH 43438
Office Number: 419-746-2546
You can arrive anytime after 1:00 PM on Thursday 6/5/2014
*** As a reminder, if you do bring your pet, you will need the appropriate paper work for the campgrounds.***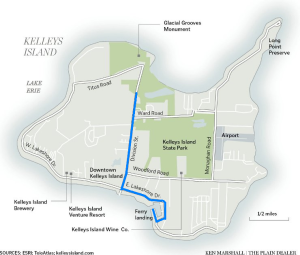 Kelleys Island Ferry Boat
** The Kelleys Island Ferry Launch is located at
510 West Main Street
Marblehead, OH 43440
Below is the schedule for the summer: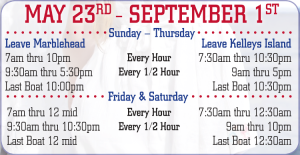 **Round trip should only cost you about $100 per couple.
Please visit the website if you have any questions: http://www.kelleysislandferry.com/
Planned Activities
• Historical Museum & Island Tour
• Glacier grooves
• Local Restaurants and Taverns
• Put-in-bay for a day
• Local Wineries
• Marblehead
• And MUCH MUCH MORE exciting things to do and see!
Group Meals
There will be group meals hosted for the Rally as well. We plan on preparing Breakfast and Dinner on Friday, Saturday, and Sunday for the whole group. Paula Christopher will be in charge of the menu, so you know it will be great!
Rally Fees
$75.00 per couple for meals and activities
$134.00 per campsite
All campsites are reserved for the members. Please be sure to bring a check or cash to pay for the Rally fee and the campsite.
The Christophers do plan on hitting the road by 4:00 pm on Thursday to hopefully make the 6:00pm ferry over to Kelleys Isalnd. Please feel free to meet them at that time, if you want to go over together.
If you need any other information please contact:
Tom Christopher 440-897-4714
Paula Christopher 440-488-8731
Thank you very much!!! And have a wonderful time at Kelleys Island!!!!